You Must Try These 4 Best Pizza Spots in Renton, WA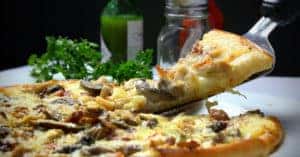 Renton, Washington, is full of fantastic places to sate your hunger. The pizza parlors in and around town are particularly good. Check out our list of favorites below, and you could quickly discover a favorite of your own.
Amante Pizza & Pasta
At 4201 Northeast Sunset Boulevard, you'll find a place where perfectly wood-fired pizza ovens meet expertly prepared pasta dishes. You can order for pickup or delivery online or via app, and you're always welcome in-house at Amante Pizza & Pasta. Customers love their Amore Pizza, a Greek-inspired pizza with a garlic and olive base, artichoke hearts, Greek olives, and mozzarella.
Patrons also adore their Thai House Pizza, which has a garlic and olive base, chicken breast, spinach, red onions, green peppers, and mozzarella cheese, all topped with Thai peanut sauce. Their cheese tortellini, fettuccine carbonara, and pasta puttanesca are particularly good.
Smoking Monkey Pizza
Drive over to 613 South 3rd Street B in Renton to visit the science-fiction-themed Smoking Monkey. From Cosmic Chicken pizza to Smoking Monkey Stromboli, this place has something for everyone. Their Nova Supreme pizza, with marinara sauce, provolone cheese, pepperoni, sausage, bacon, roasted red pepper, red onion, jalapeño, Parmesan, and chili flakes is the talk of the town. Choose from their long list of signature pizzas or build your own.
If you prefer something else, the Smoking Monkey offers chicken wings, strombolis, pastas, and more. If you choose a salad to begin your meal, try out their special Smoking Monkey Ranch Dressing. They have many beer and wine options, along with a happy hour menu, so drink responsibly at the Smoking Monkey.
Pizza Addict
If you continuously crave expertly crafted personal-sized pizzas, then Pizza Addict, located at 1250 Southwest 43rd Street Suite D2, is the place for you. Their pizzas are packed with toppings and are very affordable. Try out their chicken caesar or bell pepper salads before tucking into one of their most popular personal pizzas, like the mini-4-meats pizza. If you prefer a greener pizza, go with their artichoke pizza. Their chipotle chicken, Philly cheesesteak, and piggy paradise pizzas are favorites among their patrons.
Pizza Addict is home to a surprising array of starter dishes, like Greek fries with lamb, calamari, s'more pizza, and caprese with prosciutto. Head over to Pizza Addicts, and they'll have your pizza fix ready for you in no time.
Pizzeria Pulcinella
If you prefer artisan pizzas in a comfortable atmosphere with a Neapolitan flare, try out Pizzeria Pulcinella at 10003 Rainier Avenue South in nearby Seattle. There they begin with tender soft-wheat dough from Northern Italy, cover it in a sauce made from Italian tomatoes, cover that with your choice of cheeses and toppings, and speed bake it expertly in their Valoriani wood-fired oven. The baking process takes 70-90 seconds, so your order will be out fast.
This restaurant has been certified Neapolitan by the Verace Pizza Napolitana Association since 2009, so you can be confident that you will be getting proper Neapolitan pizzas every time.
The pizza places in and around Renton, Washington, are more than worth the visit. Try out each of our perfect pizza picks, and you'll find yourself trying them out again and again as time goes on.
Image via pixabay.com