Why You Should Look into the 2019 Harley-Davidson Tri Glide Ultra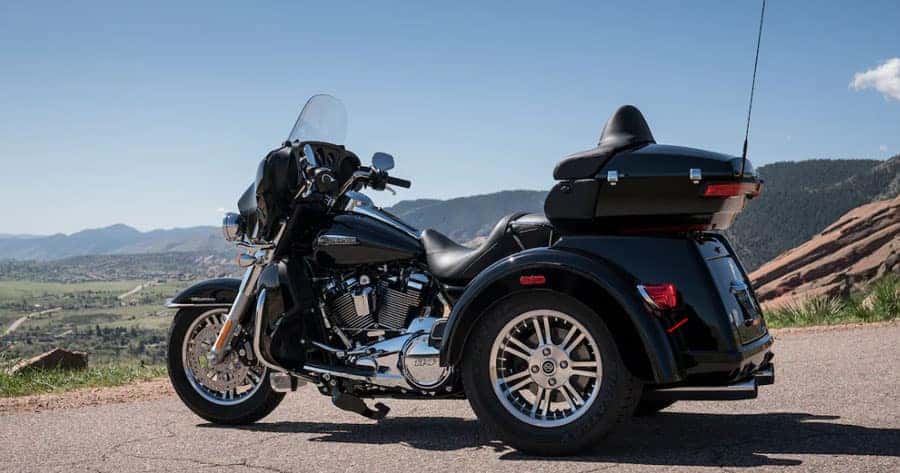 The 2019 Harley-Davidson Tri Glide Ultra is a three-wheeled motorcycle that comes complete with a plethora of premium features. From a powerful engine, to a comfortable ride, to plenty of high-tech equipment – there are many reasons you should look into the Tri Glide Ultra!
It Packs the Power
The 2019 Tri Glide Ultra has plenty of power to get you where you're going fast. It's powered by a twin-cooled Milwaukee-Eight 114 engine that gets 114 cubic inches of power. You'll get 121 pound-feet of torque. The engine is paired with a six-speed Cruise Drive transmission, which features quiet shifting and engine speed reduction on the highway. This allows for a better match between road speed and engine RPM. The Tri Glide Ultra has an electronic sequential port fuel injection system and a chrome, 2-1-2 dual exhaust with tapered mufflers.
The Tri Glide Ultra features new enhancements to the braking system so you can stop quickly when necessary. The brakes are electronically linked and include ABS and traction control, which gives you better cornering capability.
You'll enjoy a smooth ride while cruising down the road thanks to the premium touring suspension, calibrated specifically for Trikes, in order to offer a responsive ride. Cruise control comes standard, as does a security system.
It Looks Sporty and Aggressive
The Tri Glide Ultra has a sleek design with a batwing fairing and splitsteam air vent. The pressure-equalizing duct on the front reduces head buffeting and delivers better air flow. You can easily open and close it with the touch of a button.
The Daymaker LED headlamp and LED foglamps light the way when the sun sets and ensure other drivers see you. Standard features include front fender running lights, directional lights, low oil pressure gauge, engine diagnostics, speakers, gear indication, low fuel warning, reverse, miles to empty display, park brake, and fog/auxiliary lamp indicator. The gauge display keeps you in the know of what's going on with your Trike and includes an odometer, range to empty information, trip A, trip B, gear indicator, and a telltale for traction control and reverse.
It Has High-Tech Amenities
New enhancements to the infotainment system optimize each element and enhance your interaction with your bike. The new BOOM! Box GTS infotainment system has a contemporary look and feel and offers plenty of functions to keep you connected while on the road. Connect your smartphone via the USB port and listen to your favorite tunes through four speakers as you head down the road. The rider/passenger intercom allows you to keep up on the conversation.
It Can Carry Your Luggage
The 2019 Tri Glide Ultra has plenty of storage so you can load up and take off for an adventurous road trip. The Trunk and King Tour-Pak storage includes an integrated trunk that has 4.4 cubic feet of space for your luggage. It can hold up to 50 pounds of cargo. You'll look stylish too, as the Tour-Pak luggage carrier is injected-molded so it has a neat and classy appearance. The liner inside the carrier is made of a soft woven-nylon and has storage pockets.
When you're ready to take on the open road, hop on the 2019 Tri Glide Ultra and feel the wind across your face!