Here's What You Need to Know About the 2020 Harley-Davidson Forty-Eight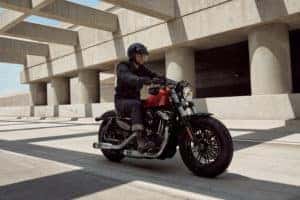 There's nothing quite like the experience of riding a motorcycle. These vehicles offer a sense of freedom that can't be found in a standard automobile. While there are plenty of bikes to choose from, even if you limit yourself to an incredible make like Harley-Davidson, there's no experience quite like the one offered by the new Forty-Eight. Here's what you need to know about the 2020 Harley-Davidson Forty-Eight.
Design
The Forty-Eight sports a unique design that's sure to stand out no matter where you go. The bike is notably skinny, but it comes equipped with fat and impactful tires. A peanut gas tank is included, of course, as this design has been a staple of Harley-Davidson bikes for over half a century. You'll find yourself in a bulldog stance when you mount this bike that's complemented by cast-aluminum wheels and 49mm front forks.
Engine
When you're riding the Forty-Eight, you'll feel the power of its 1,200cc air-cooled evolution engine. This bad boy utilizes the iconic V-Twin engine design, which produces 73 pound-feet of engine torque at 3,500 rpm. It uses lightweight aluminum heads and cylinders to make the air-cooling process more efficient, so you know you're always getting the most out of your engine.
Performance
You want a motorcycle that offers premier performance on the road, and that's exactly what you'll find with the Forty-Eight. Just about every aspect of this bike was designed with performance in mind. For example, cartridge dampening technology was integrated into the bike's systems to make handling easier, even when facing hazardous road conditions. You can also enjoy the foundation brake system, a high-performing braking mechanism that offers virtually unrivaled stopping power when you squeeze the brakes.
Electrical Systems
No modern motorcycle would be complete without advanced electrical systems to make the riding experience as easy and enjoyable as possible. The Forty-Eight offers all the expected features, like accessible engine diagnostics, but you can also equip your ride with ABS brakes and a security system. The indicator lights are powered by LEDs, making them easily visible on the handlebar-mounted instrumentation panel, so you'll always know what's going on with the bike.
Dimensions
This bike is relatively small, but it still provides plenty of space to ride comfortably. Its overall length comes in at 85.2 inches, and it offers a ground clearance of 4.3 inches. Additionally, you'll find its weight as shipped at 545 pounds, making it one of the lighter American bikes available. Couple that with a 2.1-gallon fuel tank and an oil capacity of 2.8 quarts, and you can enjoy a remarkably efficient bike that's easy to ride.
If you want to learn even more about the 2020 Harley Davidson Forty-Eight, it's best to experience it for yourself. Head to Jet City Harley-Davidson to see all that the Forty-Eight has to offer. Be sure to check out all the other bikes we have available as well to ensure that you're getting the motorcycle that best fits your unique needs.
Image via H-D Assets