Here Are 4 Tips for New Motorcycle Riders To Follow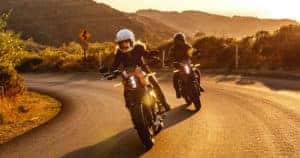 Riding a motorcycle can be exhilarating, freeing, and fun. If you are new to the world of motorcycles, take the time to learn bike safety before getting on the open road. Following these four simple tips can help you can enjoy many years of happy motorcycling.
Choose the Right Bike 
Before choosing a motorcycle, decide how you are going to use it. A bike used for commuting to work is different from a racing bike or a bike you ride on weekend getaways. Once you know how you will use your bike, you must determine what size bike is appropriate for you. When sitting on a motorcycle, your feet should be flat on the ground. You should be able to reach handlebars and bike controls without straining. Make sure your bike is light enough for you to lift off the center stand and start.
Wear Safety Gear
Safety gear is critical for new motorcycle riders as they learn the rules of the road. Critical safety gear includes a helmet, motorcycle jacket, gloves, and boots. Your helmet should be certified by the Department of Transportation and fit snugly without being too tight. Motorcycle jackets offer an extra layer of protection should you be involved in an accident or fall. Your motorcycle jacket should be snug and durable. Look for jackets that provide extra protection at the elbows, shoulders, forearms, and spine.
Motorcycle gloves offer protection from flying debris, sun, and windburn, and provide additional grip. Gloves should be snug but allow you to use bike controls freely. Motorcycle boots provide specialized protection from weather, debris, and abrasion. A good motorcycle boot will also have a closing system that covers laces to prevent them from entangling in your cycle.
Motorcycle safety gear should not only protect in an accident, but it should also increase your visibility to other motorists. Look for gear with reflective patches or bright colors.
Take a Motorcycle Safety Course
Before hitting the open road, take a Motorcycle Safety Foundation (MSF) riding course. The MSF course teaches basic riding maneuvers and emergency evasion. The course usually lasts two weeks and includes online videos and hands-on instruction in a safe, enclosed environment. Many insurance providers offer discounts for completion of an MSF course. You may also be able to waive your state's DMV test required to earn a motorcycle license.
Use Safe Driving Techniques
You must drive defensively when riding a motorcycle. Maintain a safe following distance and make sure you always have several escape paths to avoid a collision. Scan the road ahead for hazards such as potholes, debris, gravel patches, cut grass, and wet leaves. Before riding, always perform a quick bike inspection and make sure your lights, horn, and signals are working. Avoid riding your motorcycle in bad weather such as rain, fog, or snow.
If you are interested in learning more about bikes, come see us at Jet City Harley-Davidson. Our experienced, friendly staff can help you find the motorcycle perfect for you.
Image via harley-davidson.com