Get to Know the 2019 Harley-Davidson Tri Glide Ultra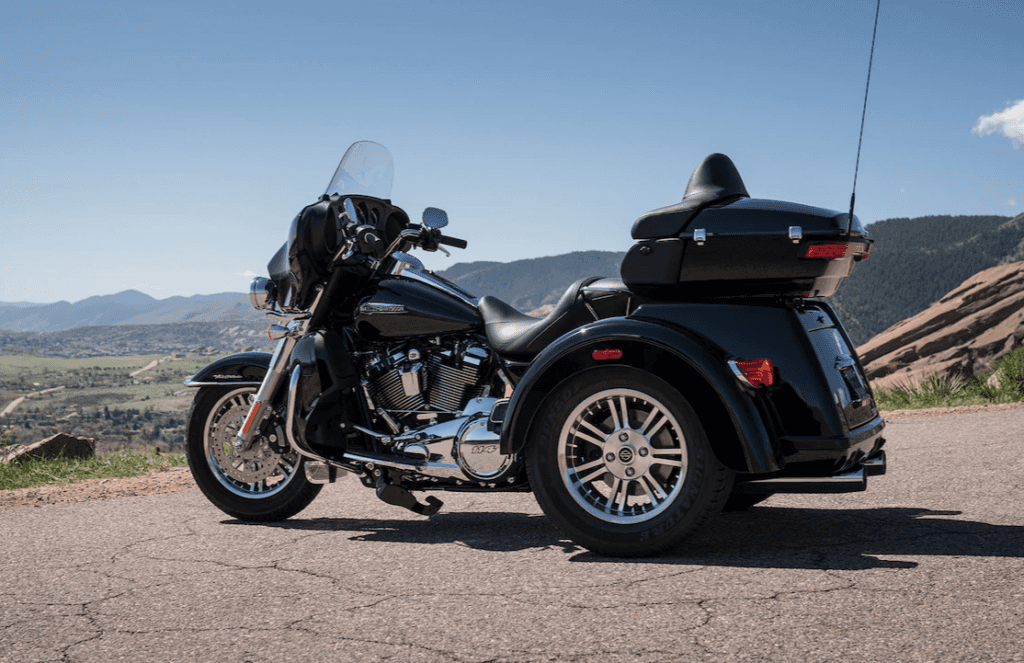 Harley-Davidson's Tri Glide Ultra combines the power of a Harley motorcycle with the comfort of a trike. Fans of the trike will appreciate the improvements Harley-Davidson has added for the 2019 model year. A new, user-friendly infotainment system, powerful Twin-cooled Milwaukee-Eight 114 engine, enhanced suspension, and braking improvements will make riding the Harley-Davidson Tri-Glide Ultra better than ever.
Paint Options
The 2019 Harley-Davidson Tri Glide Ultra is available in a wide range of colors. Vivid Black and Twisted Cherry (a deep metallic red) are the only two solid colors. Kinetic Green is a deep green with a rugged neon stripe. Midnight Blue/Barracuda Silver is a deep blue with wide silver accent. Wicked Red/Barracuda Silver is a bright red with wide silver accents. Scorched Orange is a deep coppery orange with thin black accents. Finally, Silver Flux/Black Fuse is a very dark metallic silver with thin black accents.
Styling (Features)
The 2019 Tri Glide Ultra has a new high-performance suspension to give riders a smoother ride. New braking enhancements include electronically linked brakes, anti-lock brakes, and traction control. A batwing fairing and split stream air vent provide a smoother airflow around the front of the motorcycle to improve ride comfort and efficiency. Owners of the Tri Glide Ultra have up to 4.4 cubic feet and 50 pounds of storage capacity thanks to the integrated trunk. The BOOM! Box GTS infotainment system on the Tri Glide Ultra is easily operated and offers options for navigation, phone, and music. The Boom! system touchscreen works well even in wet conditions or with gloved hands.
Engine
The 2019 Harley-Davidson Tri Glide Ultra is equipped with a Twin-Cooled Milwaukee-Eight 114 engine. This V-Twin, four-stroke engine provides 164 foot-pounds of torque and 87 horsepower. The twin-cooling of the engine not only increases comfort for the driver but allows the engine to run better and faster. A six-speed cruise drive transmission shifts smoothly and quietly. When highway driving, the transmission automatically reduces engine speed so it better matches the engine RPM, reducing the need for braking as well as engine wear. The fuel system is an Electronic Sequential Port Fuel Injection (ESPFI) and the exhaust is a chrome, 2-1-2 dual exhaust.
Travel Accessories
Riders can take the 2019 Tri Glide Ultra even further by adding one of Harley-Davidson's signature travel accessories. Trike saddlebags are contoured to fit under a passenger's legs comfortably and add storage that is ideal for small items such as cell phones, water bottles or sunglasses. A trike trunk door organizer has self-adhesive mesh pockets to keep small items organized in the trunk of the trike. A pair of trunk travel-paks make packing for a long trip even easier. These ballistic nylon bags are designed to fit perfectly into the trunk of the trike. A heavy-duty indoor/outdoor motorcycle cover is also available and has weather-shielded vents to prevent moisture buildup and corrosion.
For those that love to travel, the 2019 Harley-Davidson Tri Glide Ultra is the perfect marriage of power and practicality. The powerful engine gets riders anywhere they want to go. Ample storage space ensures riders can carry all their travel needs. The addition of a state-of-the-art infotainment system makes the 2019 Tri Glide Ultra the ultimate touring machine.
Image via Harley-Davidson.com