Four 2020 Harley-Davidson Models You Need to Consider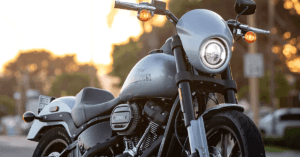 On a Harley-Davidson motorcycle, you can experience the freedom of the open road and enjoy nature. There's nothing like an exciting ride with miles of beautiful landscapes and good times ahead. If you're looking for a new Harley, you should consider
The Low Rider S 
The 2020 Low Rider S motorcycle has a classic look, agile handling, and plenty of power. The premium suspension is designed for aggressive riding, and its 114-cubic-inch Milwaukee-Eight engine produces 119 pound-feet of torque at 3,000 rpm. It also has excellent acceleration and a satisfying rumble. It weighs 650 pounds, and it comes with raised handlebars, a mini fairing around the headlight, a solo seat with a high back, and blacked-out engine finishes.
The front wheel has a 19-inch diameter, and the rear wheel is 16 inches. They both have a subtle Matte Dark Bronze finish. This bike is truly a low rider, and the seat is only 26.5 inches high. Vivid Black and Barracuda Silver paint colors are available.
The Street 750
This ride is great for commuters and people who enjoy city riding. It has brawny looks and a lightweight body with a low center of gravity that makes maneuvering in traffic easy. The blacked-out, 57.6-horsepower Revolution X V-Twin engine is liquid-cooled, and it produces 43.5 pound-feet of torque. It uses a six-speed manual transmission, and its shocks are specially tuned for its frame and weight, giving you a smooth, fun ride on a variety of surfaces. It can travel 55 miles per gallon, so you won't need to stop for fuel often.
Available colors include Vivid Black, Vivid Black Deluxe, Black Denim, Barracuda Silver Deluxe, and Performance Orange. You can also add Harley-Davidson luggage racks, saddlebags, unique brake pedals, a windshield, and other accessories.
The Forty-Eight
The 2020 Forty-Eight is a skinny bike with fat tires, a peanut gas tank, and cast aluminum wheels and 49-millimeter front forks. The air-cooled engine produces 73 pound-feet of engine torque at 3,500 rpm, and it uses lightweight aluminum components for better efficiency. Handling is easy, even in tough conditions, and the advanced electrical system provides accessible engine diagnostics.
The Forty-Eight weighs 545 pounds, and it can travel 48 mpg. It's 85.2 inches long, and it has 4.3 inches of ground clearance. Stiletto Red, Performance Orange, Stone Washed White Pearl, River Rock Gray Denim, and Vivid Black paint colors are available.
The Livewire
The 2020 Livewire is Harley's first electric motorcycle. It has quick, powerful acceleration without the vibrations and road noise that come with a gas model. It also has a high-performance suspension, a lightweight frame, and low-rise handlebars. Since the engine is electric, there's no shift lever or clutch. You can start the engine with a key fob that has a proximity sensor. Three colors are available: Vivid Black, Yellow Fuse, and Orange Fuse.
To learn more about the 2020 Harley models, visit Jet City Harley-Davidson in Renton, Washington. We offer an extensive inventory, and we can help you find the best bike for your needs.
Image via harley-davidson.com