Check Out The 2020 Harley-Davidson CVO Lineup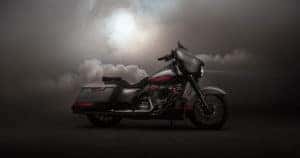 Are you looking for a comfortable new Harley for your next road trip? Check out the 2020 Harley-Davidson CVO bikes. With four options to choose from, there is a bike for every rider.
Paint Options
Your CVO paint options for these bikes vary depending on your model. The Limited comes in Sand Dune, Smoky Gray and Stormcloud, or Moonlight Blue and Deep Sea Blue. If you like the Tri Glide style, you have the option of Blizzard White Pearl with Lightning Silver and Stormcloud or Black Stardust with Magnetic Gray and Wicked Stardust. The Street Glide comes in Sand Dune, Black Stardust Fade, and Smoky Gray and Black Hole. Your final option is a Sand Dune colored Road Glide.
Styling (Features)
The design of the CVO models means you can enjoy the open road in comfort and style. All of the bikes in the Boom! Box GTS infotainment system. The system uses a touch screen with glass from edge to edge. Start your experience by choosing your background color. Connect your Apple device to Apple CarPlay, and you'll enjoy the ability to listen to your favorite music, podcasts, and books on the road. You can also make hands-free phone calls. To enjoy Apple CarPlay, your bike must have a wired or wireless headset. Add the advanced navigation system for easy point-to-point directions.
Control your infotainment experience with a combination of voice and hand controls so you can focus on the road ahead. Integrate the Harley-Davidson app into the system, and you'll be able to check on your bike even when it is parked for the night. The app gives you tamper alert warnings. It also allows you to check your fuel level and track your bike if it is ever stolen.
Along with the infotainment system, all of the bikes include Reflex Defensive Rider Systems as a standard feature. The systems include anti-lock brakes. You'll also get cornering enhanced anti-lock brakes. They help balance your braking, and cornering needs to keep you upright in curves. The anti-lock brake system works with electronically linked braking to give you more braking support in emergencies.
The cornering enhanced traction control system helps keep your back wheel from spinning out. It also enhances rider control in wet conditions. The drag-torque slip control system helps reduce rear-wheel slip while you are decelerating after a quick shift or in wet conditions. The vehicle hold control system enables you to climb hills with confidence. The final part lets you check your tires with a built-in tire pressure monitoring system.
Engine 
All of the CVO bikes use an exclusive Milwaukee-Eight 117 engine. It has a dual exhaust system with a crossover. The compression ratio for the engine is 10:2:1. It generates 125 pound-feet of torque. The bike gets 41 mpg with a six-gallon fuel tank.
Are you ready to take your potential new CVO motorcycle for a ride? Stop by Jet City Harley-Davidson. Our friendly staff looks forward to helping you find your perfect new bike today.
Image via H-D Assets