Breakfast Restaurants Near Seattle, WA You Must Try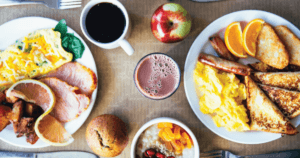 With Breakfast being the most important meal of the day, these local spots are still serving you bright and early! Through the pandemic right now, they are offering pick-up only. Please help support your local Seattle, Washington restaurants and see why they are amazing!
The Fat Hen
At 1418 NW 70th St. in Seattle, you'll find the Fat Hen, a wholesome breakfast destination you're sure to adore. The sweet toast, including house-made ricotta on Grand Central levain toast with jam and sea salt, is a local favorite, and the house-made granola is a great grab-and-go option. For something more flavorful, go with the Florentine breakfast muffin, which is a combination of an egg, Swiss cheese, and crispy pancetta on a toasted English muffin.
The signature breakfast item is The Fat Hen chicken sandwich, a buttermilk-fried chicken breast served with Calabrian oil, garlic aioli, and chicory on a toasted bun with a green salad. No matter what kind of breakfast drink you prefer, it's probably available at The Fat Hen. The options include Fonte drip coffee, Smith tea, freshly squeezed juices, and Iggy's kombucha.
Plum Delicious Family Restaurant
For some truly delicious combinations of food and drink, head over to Plum Delicious Family Restaurant at 3212 NE Sunset Blvd. in nearby Renton. You'll find a kitchen that serves breakfast at all hours, so there's no need to wait for morning. The breakfast menu includes classic items such as sausage and eggs, bacon and eggs, country-fried steak, and the quick start, which features two eggs, two slices of bacon, hash browns, and toast.
The restaurant offers four other types of steak for breakfast, including the pit ham steak, T-bone steak, sirloin steak, and hamburger steak. For something creamy and sweet, try out the cherry cream cheese crepes, strawberry banana crepes, or smothered French toast. The patrons love the pancakes, including the classic buttermilk, pumpkin spice, carrot cake, sweet chocolate, and blueberry versions. Plum Delicious has a special menu for diners 55 and older, so if you fit the bill, ask about it.
Countryside Cafe
For down-home cooking, drive to 4004 NE Fourth St. in nearby Renton, Washington. At Countryside Cafe, you'll find simple menu options such as oatmeal with fruit, the two-egg breakfast, and vanilla protein pancakes. For something with a more complex flavor, try out the gun show omelet, a combination of five egg whites, spinach, chicken sausage, and Swiss cheese, served with sweet country potatoes.
If you want something lighter for breakfast, try the California chicken salad, Cobb salad, Greek salad, tuna salad, or traditional chef's salad. The omelet menu includes a tasty southern California omelet, a bay shrimp omelet, and the fiery inferno omelet, which is a combination of fresh jalapenos, sauteed sausage, scrambled eggs, green onions, bell peppers, fresh tomatoes, and Jack and cheddar cheeses.
Rise and shine and come pick-up a meal from each of these great breakfast locations. We have no doubt that once you have, you'll have discovered one that you'll return to again and again. The food is just that good.
Image via pexels.com