The 2020 Harley-Davidson Models to Look Forward To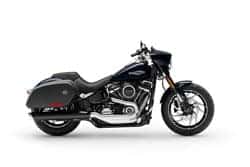 Freedom, adventure, and excitement: Harley-Davidson is a legend in motorcycles and has been for decades. Their classics continue to impress, and newer models command attention wherever they go. The new year is bringing with it a new way to ride. Here are the Harley-Davidson models to look forward to in 2020.
The Smooth Riding Road Glide 
The classic touring Road Glide has returned, and it's better than ever. Its powerful Milwaukee Eight 107 engine will roar as you glide down the road with 111 pound-feet of torque. In addition, the Reflex Brembo brakes with an anti-lock brake system will prevent your wheels from locking up, keeping you firmly in control. Harley Davidson has ensured the new BOOM! Box 4.3 radio is now standard on all Road Glides. Your Road Glide will come with the GTS infotainment system to make your ride much more enjoyable.
Check out the Electric Livewire
First of its kind, the Livewire is an all-electric Harley motorcycle. With it comes a level of freedom and exhilaration like you have never before experienced. There is no clutch to release and no running through gears; just flick your wrist, and you're off. You can charge it with the onboard Level 1 charger and power cord connected to any household outlet for an overnight full charge. Use the Level 3 DC Fast Charge at a public level station for a 100% charge in only an hour. Also, you can select your Ride Mode for a custom combo of power, throttle response, regeneration, and traction control.
Sporty Roadster
The 2020 Roadster model keeps that tucked, fastback style you love. It comes powered by an iconic 1800 CC air-cooled V-Twin engine with a sound that will soothe any motorcycle lover's soul. The blacked-out design adds to the look the Roadster is supposed to have, that of a garage-built bike. Exhaust shields, powertrain, and air cleaner are all blacked out. Also, the Roadster features a lower set pair of handlebars for a more comfortable ride, and the gauge with speedometer lets you keep track of how fast you are going.
Rugged Lowrider
This list would be incomplete without the iconic Lowrider. With a great starting price point and old school design, this is a splendid bike for beginners and more experienced riders alike. The throwback style includes dual-mounted gauges, 70s-inspired graphics, and a headlight visor. Chrome from front to back wheel envelops this bike and makes it eye-catching. This robust bike comes with a Milwaukee-Eight 107 engine with a powerful, crisp sound and responsive throttle. A high-performance suspension system gives you a reduced weight load and smooth ride. The Lowrider's signature LED lighting will help you see clearly and drive safely, even in the darkest of nights.
If you think any of these excellent bikes would be the perfect fit for you, then swing by Jet City Harley-Davidson. A member of our expert sales team would love to let you take one out for a test drive, or answer any of your questions. We look forward to working with you.
Image via HD Assets